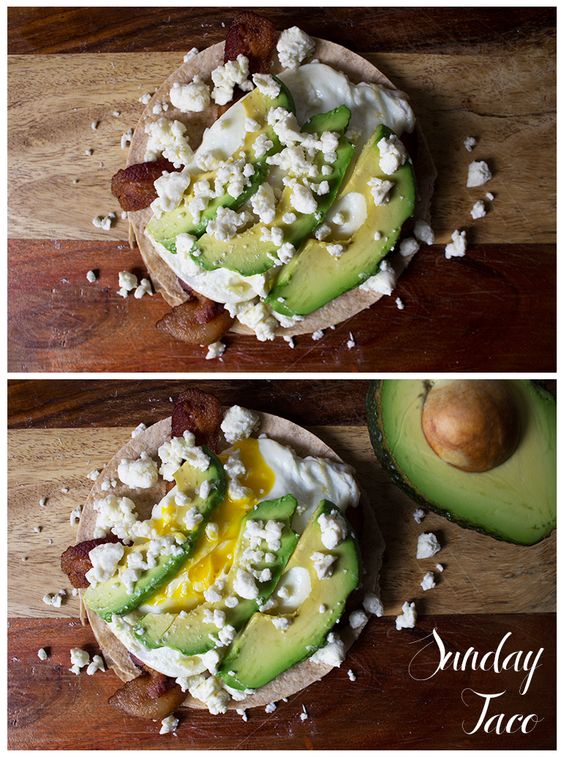 During the week D and I have fairly separate morning routines. Though both awake in the apartment, someone is always in the bathroom getting ready while the other is in the kitchen making breakfast. Since we don't get too much time in the morning during the week, we typically take a moment on Sunday to enjoy a delicious breakfast together. If we happen to have had tacos the week prior, you can guarantee we are having Breakfast Tacos on Sunday.
Taking no more time to throw together than scrambled eggs and bacon, Breakfast Tacos offer a huge wow factor with little effort on your part.
BREAKFAST TACOS
4-6 Tortillas, your favorite kind works!
4-6 Eggs, 1 egg per taco
1 Avocado, sliced semi-thin
4-6 Bacon strips
1/2-3/4 Cup Queso Fresco
Salt and Pepper to taste
Preheat oven to 400 degrees and place bacon strips on foil lined pan, baking for 15-20 mins or until bacon is as crispy as desired
Slice the avocado into semi-thin slices, crumble/grate cheese and lay out tortillas
After the bacon has baked for 10 mins, spray/lightly butter a large frying pan and bring to medium-high heat, break the eggs directly into the pan and cook for 1-2 minutes per side, or until over easy has been achieved
While eggs cook, pat excess grease off bacon and cut each strip in-half, placing 2 half pieces on each tortilla
Add an over easy egg on top of both bacon pieces, lay 2-3 slices of avocado on top, and sprinkle crumbles/grated cheese evenly among the tortillas
Note:
I happen to make Breakfast Tacos frequently enough that I keep Queso Fresco in my fridge at all times. If you don't have, don't like, or want to use what is already in your fridge, go for it! Any mild or sharp cheese will work. I sometimes use the leftover cheddar from the tacos we had early that week to clean out the fridge.