I have been cursed blessed with fair sensitive skin. Growing up, while my friends enjoyed the gift bags full of Bath and Body Works products for their birthday and holiday presents, I always had to return these items as my skin never agreed with these products. Through the years though, more and more companies offer organic and toxin free products which has allowed me to start recovering from beauty product fomo. Here are five products that are in regular rotation in my skin care regime.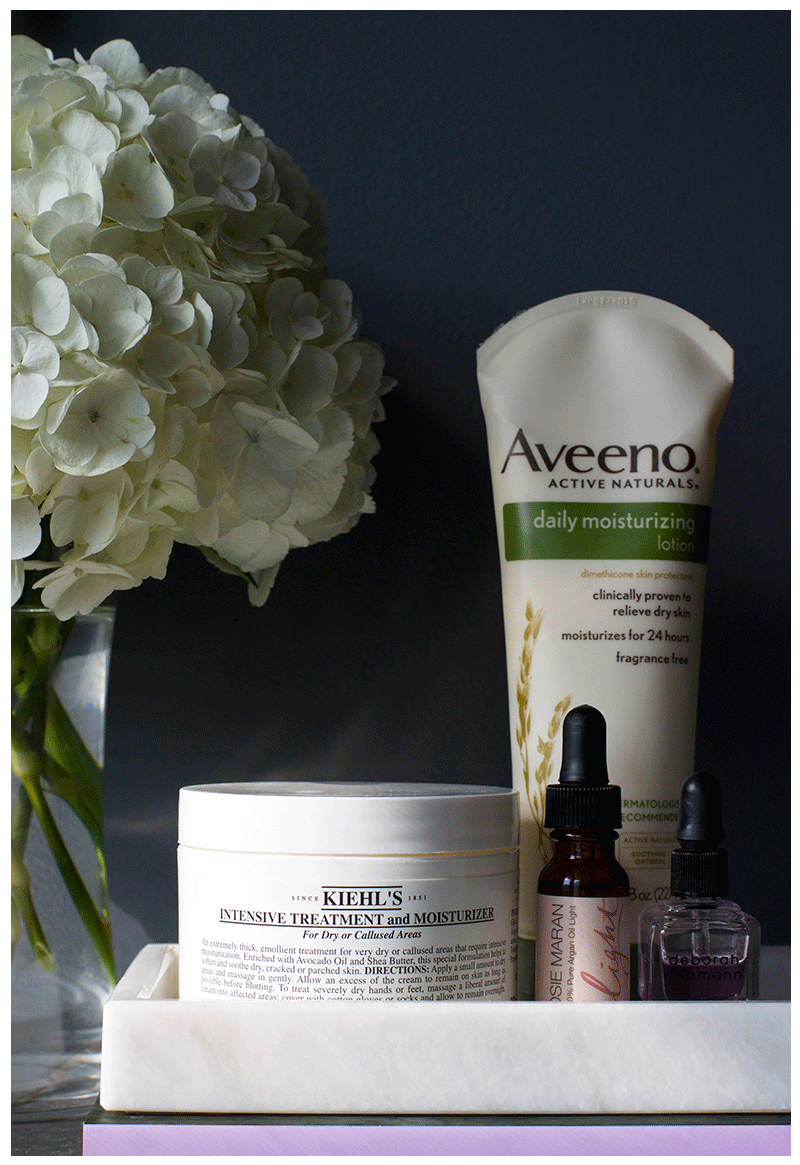 – AVEENO DAILY MOISTURIZING LOTION –
Aveeno is my all time favorite lotion. Recommended by almost every doctor I have seen, this oatmeal based formula is fragrance free and non-greasy. It also keeps your skin hydrated up until you wash your hands. I keep at least two bottles around the apartment at all times, one at my desk, and a travel size in my bag to use on the go. Just thick enough to quench dry skin and light enough to wear under make-up this lotion is perfect for sensitive skin. I even used it as my daily face moisturizer until I found the next product.
– JOSIE MARAN 100 PERCENT PURE ARGAN OIL LIGHT –
When I first heard about face oil I was far from a convert. My whole life people told me eating greasy foods and covering my face in oil was a no-no if I wanted to avoid acne. After a particularly dry skin spell this past winter a friend suggested I try argan oil. Not only did it clear up my dry flaky skin within two nights of using it I loved how smooth it left my skin feeling. Josie Maran 100 Percent Pure Argan Oil is well priced, offered in two sizes, and you can choose from light and regular. I started with the regular formula but was advised to switch to light since I do not need the heaviness of the regular oil at this stage in my life. It is a more expensive than the traditional lotion moisturize but a little goes a looonnggg way and a travel size bottle can last me up to two months of nightly use. For best results in my opinion, apply when face is a little damp, not dry.
– DEBORAH LIPPMANN CUTICLE OIL –
To stay in the vein of oil, I also use cuticle oil right before bed and leaving the house in the morning. My cuticles get so dry it is not uncommon for them to be raw and red if I don't use cuticle oil regularly, especially in the winter. There are a plethora of options when it comes to cuticle oil and I have tried my fair share. Deborah Lippmann Cuticle Oil is my favorite, containing pure white jojoba oil, vitamin E, and coconut oil adding a heavenly smell to the oil. It does not rub off on other things once applied, an issue I run into with Essie  – anything I touch after applying will end up sticky and tacky – and it is long lasting which is not true for other brands like Body Shop.
– ORGINS CLEAR IMPROVEMENT ACTIVE CHARCOAL MASK –
Nothing says relaxation and pampering more to me than a mask. I love lighting a couple candles, slathering on a good mask and soaking in the tub for 15-20 mins while it dries. Taking frequent baths though is hard on my skin that already has a natural tendency to be dry but I still love the benefits of a good cleansing mask. The kind folks at Sephora recommended Origins Clear Improvement Active Charcoal Mask for the reasonable price point and results. Every Sunday I take 20 mins to relax and deep clean with this mask which does not cause my skin to dry out or sting from the ingredients.
– KIEHL'S INTENSIVE FOOT CREAM –
D says it is because I am 1/16th Native American but my feet have always been tough. Not in the callous tough way, although I must admit I do need a good cleaning every now-and-then, but in the not soft like a cloud or a baby's bum. Kiehl's Intensive Foot Cream is heavy enough to fully hydrate my tough skin but light enough to wear under cotton socks without the splotchy greasy marks. After every shower I put a little dollop on each foot and slip into cotton socks for the evening. It is a bit pricy but the tub will last you for months.